The question of what is Stephen King's most important work is not easy to answer. Just what do you take into account? You can add up the numbers, you can look at the cultural impact, you can poll the fans and you can ask the experts. So that's exactly what we did in our efforts to determine, categorically, Stephen King's most important title.
The Bestseller Stats
King has long been a phenomenon. The misuse of statistics can be as scary as anything ever dreamed up by the single most successful horror* writer of the past half-century, but try some of these figures on for size: Wikipedia's admittedly incomplete and occasionally sketchy rundown of the biggest-selling authors of all time has him nestled in 21st position, with an estimated total of 350 million sales.
Across 45 years, he's written or co-written 61 novels (seven under his former pseudonym Richard Bachman), and released 10 collections, many collating his novellas and 200-odd short stories. And of course, that asterisk above is to acknowledge that King long stepped outside – and arguably, expanded – the horror genre. Western, fantasy, thriller, crime, romance — all have been regularly mixed in with the ghouls and the gore that made his name.
It's tricky to get individual titles' overall global sales figures for an author with such a long-running career, across different publishers and countries. But one thing is clear: King ruled 1980s' fiction. In the rundown of the US Top 25 best-selling novels of that decade, fellow tome titans Tom Clancy and Danielle Steel have three and four releases respectively appearing in the list. King has seven (one, The Talisman, co-written with Peter Straub), including three in the Top 10: The Dark Half (Number 2), The Tommyknockers (Number 3) and It (Number 10).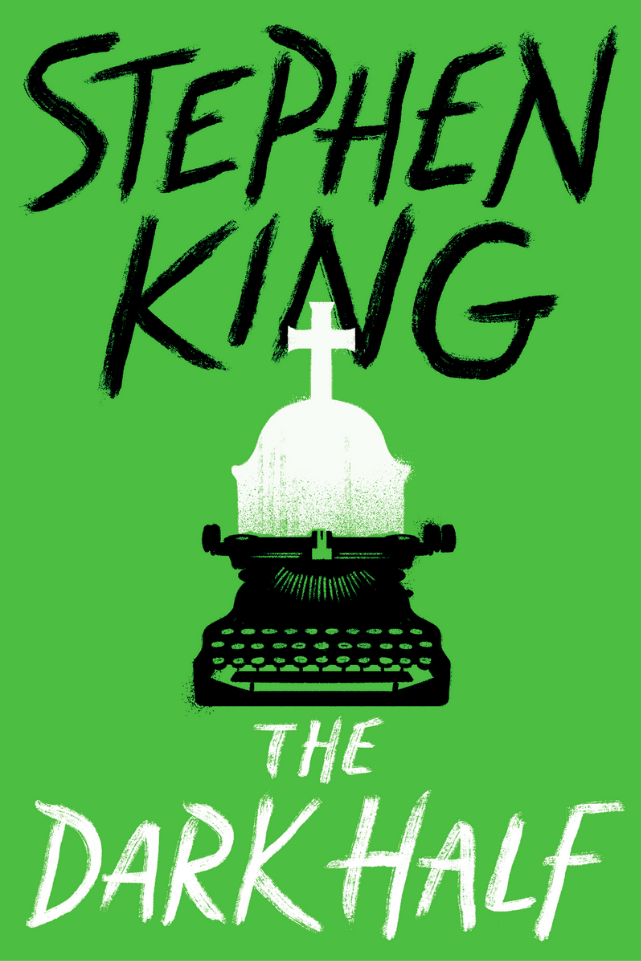 Other famous titles – The Stand, The Shining, Pet Sematary, Misery – are firmly established pop culture canon. In fact, Andy Muschietti, director of It chapters 1 and 2, cites Pet Sematary alongside It as his nomination for most important. He tells Fandom of King's story about raising the dead: "Beyond the supernatural element, it's a journey into the darkness of human grief, and the boundaries of where we're capable of reaching, just to cope with grief and loss." You can listen to Muschietti discuss Pet Sematary and more in the video above.
But if this millennium's books haven't quite matched those glory days, King is still capable of bothering the charts. Indeed, one of his greatest books, 11/22/63 was 2011's second-highest seller in the US. So, it's fair to say, when choosing a contender, we're spoilt for choice.
Screen Adaptations
And that's just looking at the printed page, which, in King's case, tells only half the story. Since Brian De Palma's acclaimed, award-winning 1976 movie adaptation of King's first published novel, Carrie, the glut of film and TV versions of King's work has threatened to outpace his own unrelenting work ethic.
Rare indeed is the King novel that hasn't yet been attempted on screen: adaptations currently number 45 films and 23 TV outings – plus 2018's Castle Rock, based on King's regular smalltown setting and stories – and counting. Some are considered cinema classics; others are, well, the King-scripted-and-directed Maximum Overdrive.
Given the current nostalgia for his 1980s heyday (we're looking at you, Stranger Things), we seem to have hit another golden period. Since 2016, there's been a renewed upswing in King onscreen: six new King movies (with It Chapter Two imminent and In the Tall Grass and Doctor Sleep due later this year), and four new television shows, with new versions of The Stand, Salem's Lot and versions of Lisey's Story, The Outsider, From a Buick 8 and The Long Walk announced.
"I'd say maybe Salem's Lot. It was one of the first I ever read, and I think it's a masterful piece of King writing, with chronology, characters and lore that all work in service of each other." — Fandom's Horror Film community member AlexanderOfNine on the most important Stephen King title
And, of course, with so many current high-profile screen adaptations, this means millions more people around the world knowing his stories, even if they haven't read the actual books. It's a major reason why King is such a pop culture figurehead, and the enormous, independent popularity of some of these adaptations needs to be factored in when calculating King's kingpin title.
Fighting Prejudice
There's perhaps one other consideration, an ongoing bugbear for King since the very start of his career. While no one can question his popularity, many have challenged his work's literary quality. Even when King was awarded his 2003 National Book Foundation Medal for Distinguished Contribution to American Letters, famously tough critic Harold Bloom decried him as "an immensely inadequate writer on a sentence-by-sentence, paragraph-by-paragraph, book-by-book basis."
Part of this has been the persistent prejudice against genre fiction that many best-selling authors suffer. King's own reputation has gradually been rehabilitated, acknowledging not just his ability to tell imaginative, gripping stories, but also his complex characters and often unerring analysis of the late-20th century American psyche.
Actor Bill Hader, who plays the adult Richie Tozier of the Losers' Club in It Chapter Two, nails King's Everyman appeal, telling Fandom: "I've always liked how he kind of lulls you into this place that is very familiar and the people are very familiar," he says.
"The feelings that the main characters have are very familiar. And then he just very slightly tweaks it so that when the actual kind of supernatural aspect of it happens, I think, that's what makes it so terrifying because you're in a very familiar place." – Bill Hader on Stephen King
Even the biggest King-head can see the difference in quality between something like his first official hard-cover Number 1 best-seller, The Dead Zone in 1979 (and its excellent David Cronenberg 1983 film), and, say, 2006's Cell (and its lacklustre 2016 movie).
The Tommyknockers might be one of his biggest sellers, but King himself admits his then-rampant alcoholism and drug addiction shows in the baggy, unfocused writing. King is refreshingly honest about the work he doesn't like; in 2001's terrific memoir/how-to guide On Writing, he calls out Insomnia and Rose Madder as "stiff, trying-too-hard novels" and brands Maximum Overdrive "a stinker". Fortunately, there are plenty of others where he's operating at the height of his powers, and these are obviously part of the conversation around his best overall work.
Worthy Contenders
So what's it to be? How about the 1983 novel this long-time King reader still considers his most flat-out terrifying, Pet Sematary (which just had a big-screen remake)? It Chapter 2 producer Barbara Muschietti agrees, saying of her and director brother Andy that Pet Sematary "just shook us to the core … the exploration of grief".
Or how about his longest, and many fans' favourite – 1978 post-apocalyptic epic The Stand, King's entry in PBS's 2018 'The Great American Read' of 100 favourite American novels, and his highest-placer in the BBC's 2003 'The Big Read' poll of the UK's best-loved novels?
Or The Green Mile, a six-episode 1996 serial novel and King's most successful publishing experiment, whose film version was, until recently, the highest-grossing King adaptation and a Best Picture Oscar nominee?
Or 1987's Misery, for that matter, the best of King's several books about writers and the pains of the creative process (see also The Dark Half or Bag of Bones), whose acclaimed Rob Reiner film won Kathy Bates the Best Actress Academy Award for her psychotic nurse Annie Wilkes?
All are worthy contenders. But none even break into our Top Five. It's a tough choice. But, given all the criteria outlined above, here, in countdown-style, are the five Stephen King titles we feel best exemplify his enduring popularity and influence over popular culture:
5. Different Seasons (1982)
A left-field top-five choice for many, this collection of four novellas isn't even likely to top most fans' rankings of King's short(er) story collections (1978's Night Shift and 1985's Skeleton Crew arguably the best in that particular show). What it did, though, was give a first glimpse into King's seemingly effortless ability to expand upon his signature genre — though some might argue that The Stand, The Dead Zone and Firestarter had already begun the move away from horror.
"I think The Dead Zone is one that is overlooked but has become highly relevant in recent years. While written in 1979, the themes haven't aged. Politics have stayed the same and America's need to be heard is just as real today." — Fandom Horror Film community member, Fallenangel45
'The Breathing Method' and 'Apt Pupil', later adapted into an unconvincing, controversy-shrouded 1998 Bryan Singer film, contain tried-and-tested horror tropes (ghost story and contagious-Holocaust-evil cautionary tale, respectively); but it's the two other "seasons", both actually written a decade previously, that stand out and, in fact, broke out from its pages.
'The Body', a rite of passage story about four young friends who trek into the woods to find a reported corpse, became Rob Reiner's Stand By Me (1986). It's one of the great coming-of-age movies, weaving wide-eyed innocence, irreverent humour and a beautifully rendered 1950s Americana, blue-collar nostalgia into an acknowledgement of the darkness of the adult world, and mortality. King himself rates it as probably the best screen adaptation of any of his stories.
"Different Seasons … always left a special place in my heart, especially since The Shawshank Redemption is my favourite movie. Those novellas, in my opinion, show that Mr. King is capable of writing more than horror. Which is a great euphemism for all of us, just because you're good at one thing doesn't mean you can't branch out and try different things." — Stephen King community member LilApplePie97.
And then there's 'Rita Hayworth and the Shawshank Redemption', a marathon, (eventual) prison break saga that was turned, minus the novella title's first three words, into one of the most beloved films of all time. The Number 1-rated title on IMDb.com for years, outranking Oscar-winners and pop-culture juggernauts (The Godfather, Pulp Fiction, The Dark Knight) alike, Frank Darabont's expert adaptation was initially a commercial flop.
By contrast, Darabont's other King prison-set adaptation, 1999's The Green Mile was a far bigger box-office hit, but it's Shawshank that has had an almost miraculous afterlife. The twist ending isn't a mere 'Gotcha!', but affirms a secular spirituality that transcends religion. It superbly reconfigures King's original while absolutely staying true to its emotional power: "Get busy living or get busy dying" sums up King's optimistic humanism, and how his characters strive to stave off the darkness around them.
4. The Dark Tower series (1978-2012)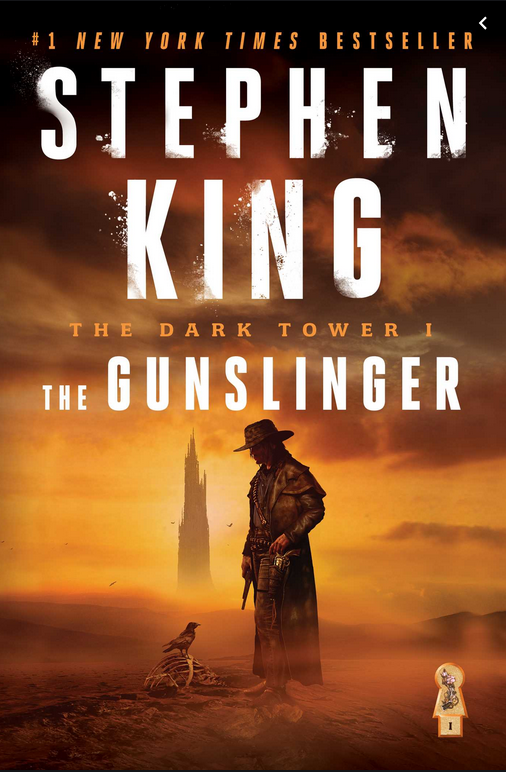 Another diversion from straight-up horror that has slowly become perhaps the urtext of King's career. Stand down, The Stand stans: this is his magnum opus, an eight-book (plus one short story) epic, decade-straddling, multi-genre fantasy that has since rippled out into various graphic novels, and ancillary tales.
"When talking about the most important of King's works in regards to his multiverse … you would want to look at the Dark Tower series, IT, The Stand, Insomnia, Salem's Lot, The Mist and The Talisman/Black House. These books have the most (or the most important) connections and plot points that connect all of his works together." — Fandom Horror Film community member, Samurai sloppy Joe
Inspired by Robert Browning poem 'Childe Rolande to the Dark Tower Came', The Dark Tower starts with a Gunslinger pursuing a Man in Black across a wasteland world and evolves into a multi-dimensional locus with its own language that connects the author himself to a fictional alter ego and his various extended universes. Mashing up Arthurian legend, Clint Eastwood westerns, Tolkien, science-fiction and more, references to the Tower's mythology can be found in a wide assortment of King's other books.
Inevitably, the 2017 movie starring Idris Elba and Matthew McConaughey struggled to contain the multitudes that King has long established, though plans are afoot for a – necessarily more expansive – series on Amazon.
New readers may be put off by such a daunting saga, though hardcore King fans would see it as an essential part of the canon, and the series has sold an estimated 30 million copies. Whether any screen incarnation can harness The Dark Tower's sheer depth and complexity, we'll always have King's brilliantly ambitious, self-mythologizing, written storytelling.
3. Carrie (1974)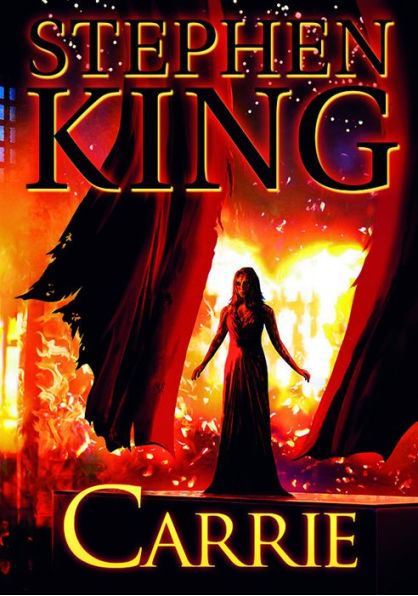 King's fourth-written (behind three 'Bachman books'), first-published and shortest novel, and the hit 1976 Brian De Palma film adaptation, are the twin springs of his entire career. As King told the New York Times in 1979, "the movie made the book and the book made me."
In inflation-adjusted figures, De Palma's film is still the fourth-highest grossing King adaptation and received critical acclaim and Oscar nominations too for leads Sissy Spacek and Piper Laurie. The story of poor, telekinetic Carrie White, and her vengeance on her religious fundamentalist mother and the cruel high-school bullies who torment her is now an enduring classic in its own right.
It's since been revisited as a TV movie, a cash-in film sequel, a movie remake, even a Broadway musical that Riverdale saw fit to adapt in one memorable episode. And the visceral set-pieces – Carrie's first period in the gym showers, a teetering bucket of pig's blood, the subsequent prom massacre, the film's shock graveside ending – are now established parts of pop culture.
Go back to the novel, though, and you'll find so much of that already present, as well as, for a young, inexperienced man, a startlingly nuanced and empathetic portrayal of a troubled teenage girl.
King has talked of Carrie being his grappling with the then-burgeoning feminist movement; but it's also a pointer to future King novels where he deals so sensitively with women protagonists – Dolores Clairborne, Lisey's Story, Gerald's Game, to name a few – and sowed the seeds for his habitual dissections of society through fictional small Maine towns where he, like Carrie herself, can wreak havoc on its inhabitants with simply the power of his imagination.
2. The Shining (1977)
Is there a better case study for a piece of work wrestled away from its creator by a different artist, who changes fundamental aspects of it, only to be in equal parts lauded by the public and yet hated by the originator?
Stephen King's disapproval of Stanley Kubrick's 1980 reimagining of his updated haunted house masterpiece The Shining has been very public and prolonged. "The book is hot, and the movie is cold," he's argued, also citing Jack Nicholson's go-for-broke performance as the hotel caretaker turned (by the hotel) homicidal maniac too obvious, and the portrayal of his wife Wendy, "misogynistic".
And yet the icy grandeur of Kubrick's relentless Steadicam and iconic, invented moments ("Heeere's Johnny!") have elevated the film into the upper echelons of horror cinema. So is The Shining both a terrible adaptation and a great film?
Yes, is the simple response (though why the later King-scripted, book-faithful TV version pales by comparison requires a more detailed answer). In any event: Kubrick's film sits third in the all-time inflation-adjusted King movie grossers list; and King's novel is routinely called one of his very best.
Fellow horror scribe Peter Straub declared it "probably the best supernatural novel in a hundred years." It also feels like one of his most personal, Jack Torrance's struggles with alcoholism echoing his creator's.
"I was the guy who had written The Shining without even realizing that I was writing about myself," King admitted in On Writing. The Shining even bred a rare King sequel, 2013's Doctor Sleep, which follows the troubled life of now-adult Dan(ny) Torrance and his telepathic "shining" abilities.
Fittingly, Doctor Sleep director Mike Flanagan claims that the film adaptation will attempt to follow both novel and film of The Shining. And given that King totally ignores Kubrick's film changes (in Doctor Sleep's postscript, he coolly calls the book "the True History of the Torrance Family") the film's continuity and callbacks should be… interesting. But it demonstrates how both iterations of the same classic story, both now around forty years old, still loom so large in both men's canon of work. And you can't say that about Lawrence Kasdan's misbegotten movie version of King's Dreamcatcher...
1. It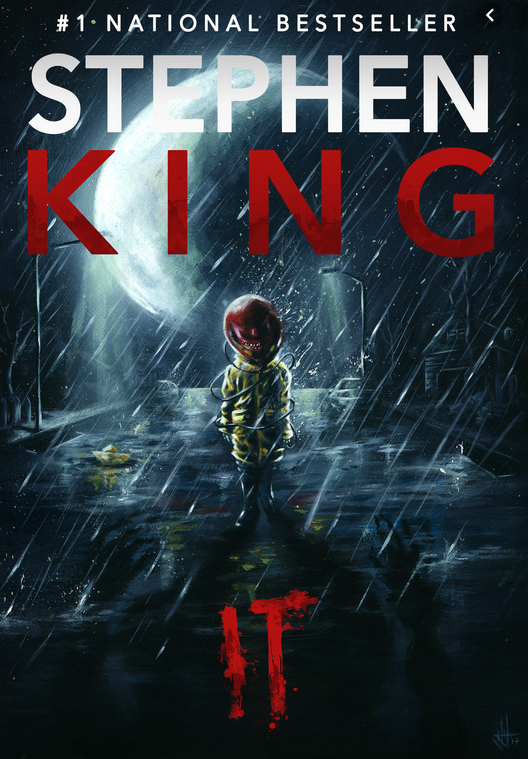 It's the inevitable choice, right? It is Stephen King's most important work. And who can argue with the fanbase? An overwhelming majority in our poll (at the time of writing, 44%) voted for it. Here's the breakdown of the figures:
It — 44%
The Shining — 29%
The Dark Tower series — 11%
Carrie — 9%
Different Seasons — 2%
Other — 5%
What King told Time magazine in 1999 was "a final exam in horror" allowed the author to throw everything into one colossal, 1,138-page beast (then, pre-The Stand Uncut, his longest) of a novel, unfolding in two parallel time frames of 1958 and 1985. Everything he wanted to say about fear, friendship, growing up and small-town America is here. And then some.
For such a weighty tome, it made quite the publishing splash too, becoming the best-selling US novel of 1986, and one of his most popular books ever. The feeling's apparently mutual. In 2015, at a Florida speaking event, King finally declared it one of his two own favourite novels, alongside the powerful time-travel tale 11/22/63.
It also unleashed what's become arguably King's ultimate boogeyman: gleeful, ghoulish killer clown Pennywise, whose first appearance, lurking, luring and dismembering a small boy in a Derry storm drain, is utterly terrifying. The 1990 TV mini-series was uneven, but Tim Curry's Pennywise was the stuff of nightmares.
A feature film was long in the pipeline, and after several aborted attempts, director Andy Muschietti finally brought It to the big screen in a cannily crafted two-part effort. The first focused on the protagonist 'Losers Club' as kids when they first encounter, and barely survive, the shapeshifting monster; and the second as adults returning to their hometown to finally do battle with the ancient evil that dwells there.
It Chapter One outdid all expectations, becoming a horror blockbuster that earned well over $300 million in domestic box-office, over $100 million more than its nearest King competitor.
Chapter Two is likely to do equally huge business. Though its finale diverges considerably from the book, it ups the ante on Chapter One and, by cross-cutting between the kids and their adult selves, is arguably more faithful overall to King's original vision. The fact that the author gets a sneaky extended cameo suggests an official seal of approval too. Muschietti talks about King's involvement in the production in the video above.
"It is a great horror vessel, but also it's an amazing fresco of the journey of a human being from childhood to adulthood," Muschietti tells Fandom. "I've said it before, but it's a love letter to childhood, about all those beautiful things that have lived in childhood that disappear when you grow into an adult. And he knows this very well, you know, because he's an artist."
Muschietti goes on to talk in the video about the importance of holding onto the "treasures" of childhood as an artist in order to create. Indeed, the notion of retaining the "treasures" of our youth is something that resonates with so many of us and goes some way towards explaining why It is a story that countless readers and viewers hold dear.
And with the massive success of this latest screen adaptation of It, Muschietti and his team are re-introducing a whole new generation to Stephen King through what we believe is his defining work.
Watch Andy Muschietti react to our community poll in the video at the top of the page. It Chapter Two hits screens in Australia on September 5 and in the UK and US on September 6.
Additional reporting by Liz Shannon Miller and Kim Taylor-Foster.
The post What Is Stephen King's Most Important Title? appeared first on FANDOM.