Every person in this fast-paced world desires one thing – sound sleep. Yes, getting sound sleep makes everything seem better. But, what if you have disturbed sleep due to obstructed breathing or snoring? Have you tried finding a solution for your disturbed sleep? Did you know that there are anti-snoring pillows? This article holds the answers to all these questions. But first, let's talk about sleep apnea.
What Is Sleep Apnea?
Sleep apnea is a sleep disorder in which a person's sleep is interrupted due to obstructed breathing. There are two major types of sleep apnea: obstructive sleep apnea and central sleep apnea. The former occurs when the person's airways get blocked by a soft tissue behind the throat and the latter occurs when the person's brain forgets to instruct the body to breathe due to a dysfunctioning respiratory control center. Both types of sleep apnea result in snoring, insomnia, fatigue, waking up with a headache or sore throat, wheezing or gasping for air, mood swings, and restlessness. An anti-snoring pillow can solve some of these problems and help you get more restful sleep. Check out its benefits below.
Benefits Of Anti-Snoring Pillows And How They Work
Anti-snoring pillows help in keeping your airways open when you are asleep. They improve your head and neck alignment, thereby reducing the vibrations in your throat that are produced due to breathing in your sleep. Reduced snoring enhances the quality of your sleep.
When compared to the use of advanced devices and complex surgeries, anti-snoring pillows are considered a safer solution for sleep apnea.
One thing you need to remember is that anti-snoring pillows only help in reducing snoring, not the underlying issue causing it. If an anti-snoring pillow is not working for you, then your snoring situation is probably more complex, and you need to consult a doctor.
Now that you know an anti-snoring pillow can improve your sleep, check out the best ones available on the market right now!
10 Best Anti-Snoring Pillows – 2019
1. Sleep Innovations Comfort Memory Foam Contour Pillow
If you are looking for something that not only clears your airways but also enhances the support to your spine, then Sleep Innovations Contour Pillow is the best option for you. This pillow is made of high-quality memory foam that adapts to the shape and size of your head and neck. Its distinctive design helps you get uninterrupted sleep without causing discomfort.
Pros
Comfortable
Great quality
Relieves head and neck aches
Improved breathing due to appropriate elevation
Cons
Rating
4.7/5
2. InteVision Foam Bed Wedge Pillow
InteVision's wedge foam pillow is the ideal choice for side sleepers and people with issues like inefficient blood flow, breathing problem, acid reflux, and neck and back aches. Its firm foam base provides effective support and an additional layer of memory foam gives you adequate comfort. It helps align your head, neck, shoulders, and spine.
Pros
Provides effective support and comfort
Firm
Hypoallergenic
Washable lining
Cons
Rating
4.7/5
3. Visco Love Celliant Sleep Memory Foam Pillow
Visco Love's Celliant Sleep Therapeutic Memory Foam Pillow provides great support to your neck, head, and shoulders. It is designed in a way to clear your airways and alleviate the aches in your upper body. Built with 100% visco-elastic memory foam, bamboo, and charcoal, this hypoallergenic and durable pillow acts like a thermoregulator that allows you to sleep comfortably all through the night.
Pros
Controls moisture
Adapts to the weather
Relieves pain and pressure during sleep
Prevents bacterial growth
Cons
Persistent odor despite washing
Rating
4.6/5
4. Xtreme Comforts SlimSleeper Kool-Flow Bamboo Shredded Memory Foam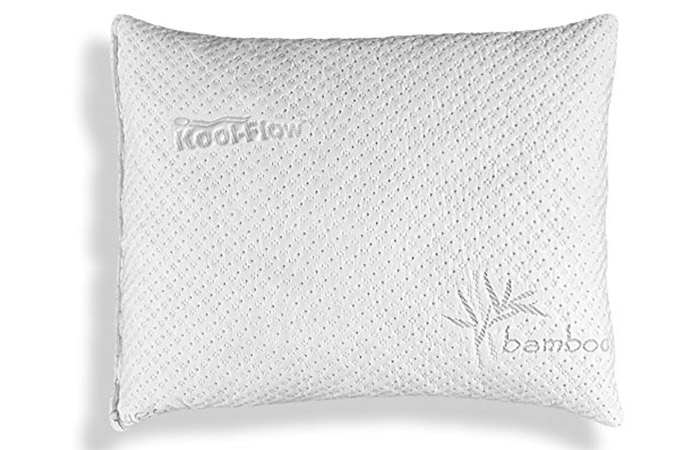 This pillow is made of shredded memory foam and is most suitable and comfortable for back and stomach sleepers. It reduces the stress on your neck and lower back, thereby enabling you to breathe better and sleep well. The Kool-Flow Technology and micro-vents in the pillow covers enable thermo-regulation to keep your pillow cool all through the night.
Pros
Stays cool all through the night
Alleviates aches and pressure
Cons
May seem too lumpy or firm
Rating
4.5/5
5. FitPlus Premium Bed Wedge Pillow
FitPlus Premium Bed Wedge Pillow is known for its premium-grade polyurethane foam base, therapeutic properties, and adequate support. It adjusts to the contours of your head, neck, and shoulders, enabling you to get comfortable sleep. It helps in reducing snoring, acid reflux, allergies, aches, and breathing issues. It improves your sleeping posture and relaxes your body.
Pros
Firm and comfortable
Prevents side sleeping
Comfortable incline
Cons
Rating
4.5/5
6. Cushy Form Bed Wedge Pillow
Cushy Form Bed Wedge Pillow is good at providing adequate support to your upper body, which is specifically helpful for people with sinusitis or who have undergone upper back surgeries. It acts as a recliner and improves your body posture. These pillows prevent dust accumulation and are also easy to maintain.
Pros
Suitable for relieving upper body aches
Improves breathing and reduces acid reflux
Appropriate upper body elevation
Cons
Rating
4.4/5
7. EnduriMed CPAP Comfort Pillow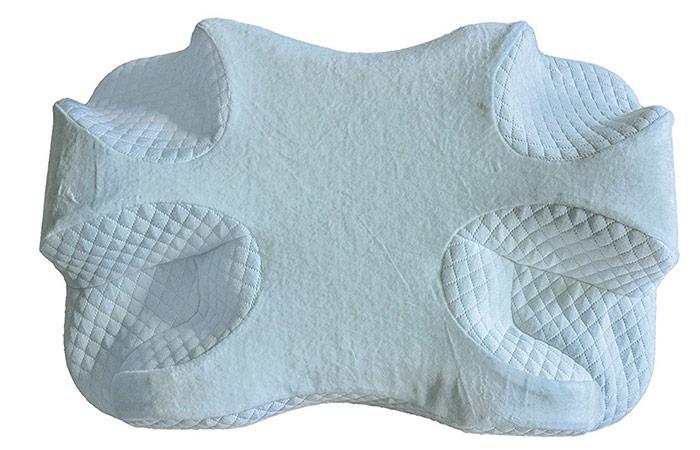 Certain anti-snoring pillows need to be used with CPAP (Continuous Positive Airway Pressure) machines that use a mask to cover the person's nose and mouth to keep the airways open. This pillow is specially designed to accommodate such masks and tubes that are used to clear the airways. It also provides firm support to your neck and spine.
Pros
Dust-, mite-, and allergen-resistant
High-quality memory foam
Spine and airway support for side and back sleepers
Comfortable and accommodative
Cons
Rating
4.3/5
8. Coolux Anti Snore Pillow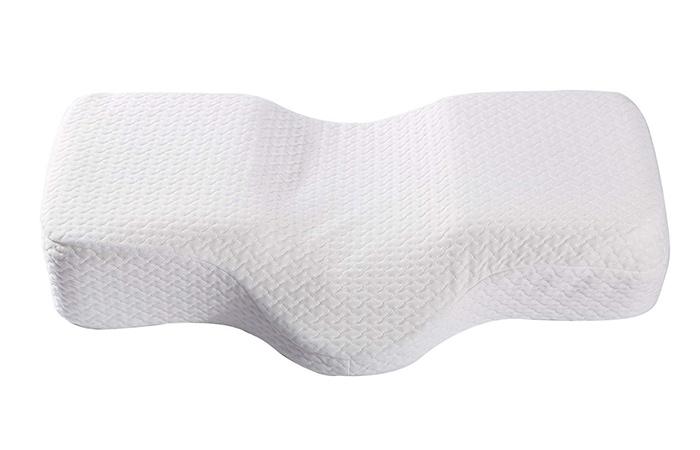 This sleep support pillow provides a therapeutic experience with its extra cushioning. It is a contour pillow made with odor-resistant material. Anyone with neck and shoulder pain may feel recharged and refreshed as this pillow ensures to provide a sound sleeping experience. The pillow adapts to your neck and shoulders and gently aligns your back for the right sleeping posture.
Pros
Easy to use
Durable
Supports your spine
Cons
Ratings
4.2/5
9. ZEEQ Smart Pillow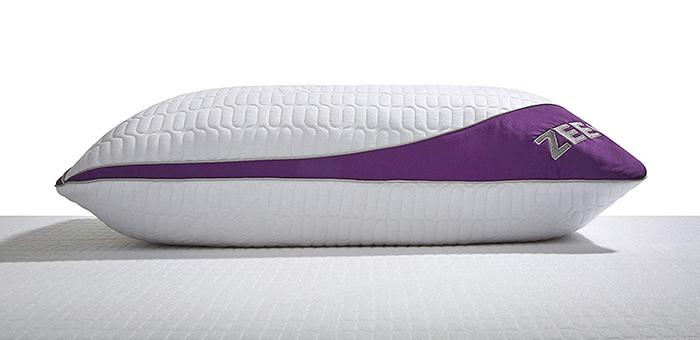 Along with its composition of memory foam and tencel fibers, ZEEQ Smart Pillow also has unique sleep tracking and sound technology features. This pillow is considered to be a modern anti-snoring solution that incorporates distinctive features, such as snore alarm, smart alarm, wireless audio, sleep analysis, sleep motion detection, and a built-in remote. You just need to install the ZEEQ app on your smartphone to operate this pillow.
Pros
Sleep tracking and sound features
Adjustable
Cons
Issues with the setup and operation
Rating
4.1/5
10. Level Sleep Restore Pillow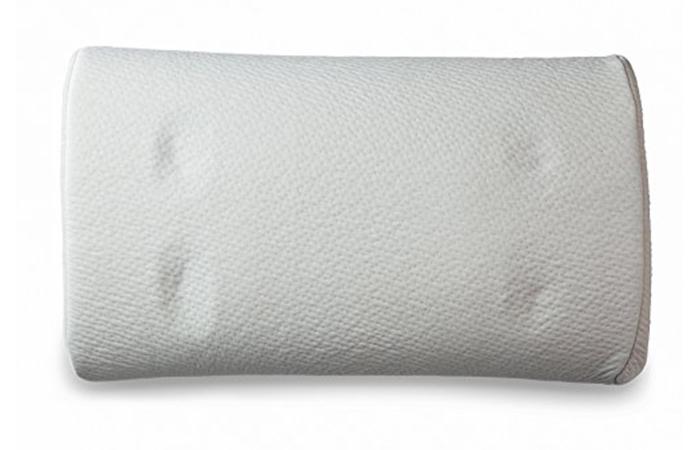 Level Sleep Restore Pillow's anti-snoring design maximizes the flow of oxygen to your lungs. Made up of polyurethane foam and covered in polyester, this pillow makes you feel cool and comfortable throughout the night.
Pros
Cons
Available in only one size
Rating
4.0/5
Now that you know about the 10 best anti-snoring pillows, check out the different types that you can choose from.
Different Types Of Snoring Pillows
Anti-snoring pillows come in different shapes and forms to accommodate the needs of the user. They are broadly categorized as follows:
Memory foam pillows adapt to the contours of your head, neck, and shoulders, thereby providing adequate support to your upper body and decreasing the chances of snoring.
A concave depression in the middle and firm and thick edges are the unique features of these pillows. They hold your head in place and keep the airways open, thereby enabling you to achieve perfect body alignment and prevent snoring.
Wedge Anti-Snoring Pillows
These pillows are in the shape of a wedge to prevent your tongue from falling to the back of your throat and blocking your airways. These pillows are popular among back sleepers and snorers.
These pillows are specifically made to be used with Continuous Positive Airway Pressure (CPAP) machines for people experiencing heavy snoring and sleep apnea. CPAP machine users are required to wear an oxygen mask over their face and mouth when they sleep. These machines increase the pressure on the throat and open up the airways to let users get comfortable sleep.
Neck Cervical Support Pillows
These pillows are designed to give maximum rest to your neck and spine. They are considered to be the best for snorers.
Before purchasing an anti-snoring pillow, you also need to consider a few factors to make a viable choice. Here are some important features to look for when buying an anti-snoring pillow.
Factors To Consider When Choosing An Anti-Snoring Pillow
1. Material Used
Anti-snoring pillows are made using a variety of materials ranging from polyester to foam. The material used in manufacturing these pillows determines their quality and durability. High quality and high durability is a prerequisite for buying an anti-snoring pillow if you want to benefit in the long run.
2. Sleeping Position
Your choice of anti-snoring pillow should also be based on your sleeping position. Wedge or contour pillows are best for back sleepers, while neck cervical support pillows are suitable for side sleepers.
3. Comfort
There is no point in purchasing a pillow that makes you feel uncomfortable, no matter how great its functionality or design. If you compromise on comfort, you may end up with neck, head, back, or body aches. Therefore, give equal importance to your comfort as well.
4. Support
Besides reducing snoring, a good anti-snoring pillow should also provide adequate support to your head, neck, and back. If a pillow fails to provide such support, it will do more harm than good.
5. Size
The size of the pillow matters too. It should be considered according to the size of your bed. Also, travelers need smaller pillows than non-travelers who can make a choice according to their comfort.
Sleep apnea, snoring, and other sleep issues can wreak havoc on your physical and mental health. So, get your hands on one of these anti-snoring pillows to put an end to all your sleep issues. And, don't forget to tell us about your experience in the comments section below!
The post 10 Best Anti-Snoring Pillows To Buy In 2019 appeared first on STYLECRAZE.
Brought to you by Buzzfeed. Read the rest of the article here.