Read any good books lately? Fancy something a bit more challenging for your next read? Try one of the world's Top 10 Longest Novels. It's hard to define exactly what constitutes a  long novel, as some come in more than one volume, which is counted, but others are more of a series (like the "Harry Potter" books), which aren't allowed as the books were published separately and were mainly self-contained. There's also differences of opinion over whether word count or page count should be the measuring tool….but at the end of all that debate, here's our list, including volumes and ranked by word count:
10. Sironia, Texas
At 840,000 words, this novel was declared "the longest novel by an American" when it was released on New Year's Day 1952. It was published in two volumes to accommodate the 1,700 pages and told the story of a small town in Texas called Sironia at the turn of the century. It was a bestseller for 11 weeks and hugely popular, but came in for a lot of criticism from residents of Waco, Texas who felt that the novel was based on real goings-on in Waco, where author Madison Cooper lived, and that their secrets had been exposed, along with those of the fictitious Sironians. Still, it sold 25,000 copies and won the Houghton Mifflin Literary Award, so Cooper probably thought it was worth it!
9. Women and Men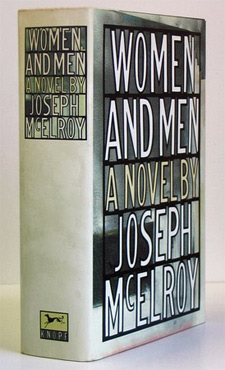 There are some novels that feel daunting to read, and most of the ones on that list probably fall into that category. Then there are others where even the summary is daunting to read, like this 850,000-word epic by Joseph McElroy. It spans around a century and a half's worth of events, from 1834 to 1977, and is arranged non-chronologically….in fact, the arrangement might seem entirely non-logical as well as being non-chronological. There are three different types of chapters – the ones with upper case titles or normal title case titles are straightforward narratives, or as straightforward as this book gets. The ones with lower case titles are self-contained short stories about some of the characters involved in the plot, and can be skipped (some of these were also published separately). Then there are the chapters with titles in upper case including the word "BREATHER", which are Greek-tragedy-like chorus narrations, with a group of angels addressing someone who is imprisoning them. Obviously. The actual plot involves Jim and Grace, who live in the same apartment block, have multiple connections both in real life and Grace's dreams, but do not know each other. And from there, the novel goes off in seemingly a million different directions with obtuse moments, like missing character names or very long sentences. Best described as "postmodern literature".
8. Poor Fellow, My Country
Another epic novel, this time from Australian author Xavier Herbert. It's the story of Australia in the period before World War Two, dealing with issues such as aborigine rights and the forming of the country. The main character has a white father and an aborigine mother but longs to become a witch doctor in the Rainbow Snake Tribe, and it follows his life in the dusty Northern Territory. It was published in 1975 and won the Miles Franlkin Award. At 852,000 words it remains the longest Australian novel ever written, and some say it's also the best Australian novel ever written. It certainly has a level of detail that only someone who had lived and been immersed in the country could have added and as well as that it takes in the scope of the world situation of the 1930s and 40s, with a character arriving from Nazi Germany. An epic indeed.
7. Ponniyin Selvan
This historical novel was written in Tamil, and took 3 and a half years to write. The result was a 900,000 word novel, telling the story of Raja Raja Chola I, one of the great Chola kings, who reigned from 985 to 1014. In the novel, he's known as Prince Arulmozhivarman, and he has to fight against conspirators, unexpected half-siblings and political machinations in his bid for the throne. In this he's aided by his friend and messenger Vandiyathevan, as well as a huge cast of other characters. it was written by Kalki Krishnamurthy, an Indian writer an political activist, who travelled to Sri Lanka three times in the course of writing the novel, in order to authentically replicate the novel's setting. It was published as a series in a magazine in the 1950s and remains one of the greatest works of Tamil literature.
6. Kelidar
Published in 1984, this Persian novel consists of 10 volumes and 950,000 words. It was written by Mahmoud Dowlatabadi, an actor and campaigner as well as a writer, and tells the story of a Kurdish family in Sabzevar, Iran between 1946 and 1949. The Kalmiši family fight with their neighbors and endure hardships in the tense political climate of mid-century Iran, as their animals die of the plague and their men kill each other, fighting out rivalries. There is daughter Mārāl, jailed father Abdus and a host of other characters who come in and out of the plot over the 10 books. It has been translated into German and part-translated into English but is not very readily available.
The post Top 10 Longest Novels appeared first on Top Ten Lists.